In the mid 70's one of my joys was shopping with my mother at our local Woolworth; my behavior always awarded me soda-floats from their vintage soda fountain. Soda was happiness, it meant family, simple things. Soda today is rarely what it was, so removed from original recipes. Yet, in South Easton is a story of how three families put Massachusetts on the soda map and how 100 years later, they haven't changed a thing.
 The Simpson Spring Company is the oldest operational bottling plant in Massachusetts and one of the first soda producers in the world. In 1878, local blacksmith & landowner, Samuel Simpson sold 5-acres of land, including the Simpson Spring well, to his entrepreneurial grandson-in-law Fred Howard. Within the year Fred was bottling and selling the water as The Simpson Spring Company. Soon after, a new beverage began gaining popularity and Fred began crafting his own infusions, adding fruits and extracts to the water. Business flourished and the love affair with soda was born.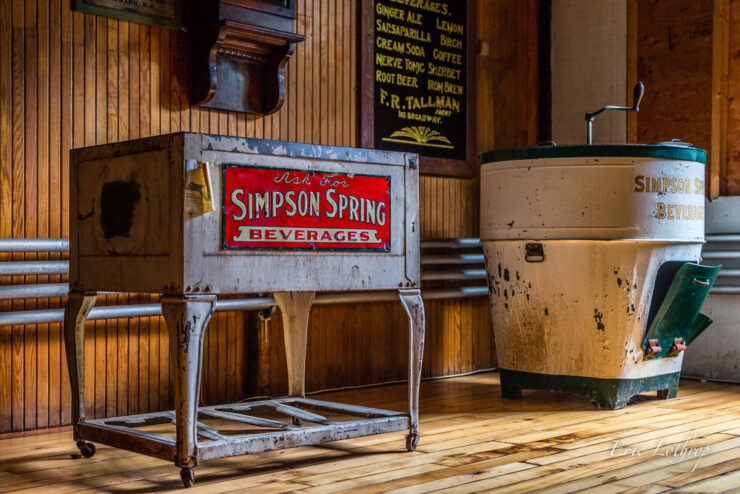 Ownership changed several times during Edwin White's 40+ year tenure as Plant Manager. In 1928, Edwin partnered with Fred Howard, a distant relative of the founder, and they purchased Simpson Spring for $50,000. Prohibition had increased soda's popularity and Simpson Spring began delivering regionally, becoming one of the largest beverage companies in New England. Macy's department store in Manhattan contracted them as the exclusive supplier for their top-selling Coffee Soda drink, Sparkoffee, from 1936-1957, however, WWII rations on sugar & coffee ceased soda productions nationally from 1941-1947.
Since 1886, The Simpson Spring Company has operated under three generations of the White Family. This legacy ended when Edwin White's great-grandson, Ed White, retired. Finding buyers willing to preserve the spring's history and continue operating the business was essential. In 1989, James & Christine Bertarelli, a young couple who owned the adjacent farmland, embraced the opportunity, purchasing The Simpson Spring Company and its 50-acres of protected land. Ed put them through intense month-long training in soda production, ensuring their success. Now, a new legacy begins, as the Bertarelli sons, Dan and Matt, begin learning the business, occasionally lending a hand at Farmers' Markets.
The Bertarelli's face challenges. For decades they've recycled their U.S.-made glass bottles. Reuse/recycle is actively promoted, from 25 cent gallon spring water refills at the plant's company store to 25 cent glass buybacks. However, returns have decreased, and finding a U.S. source to fulfill their needs is becoming difficult. Another challenge is recognition. Their products aren't widely available as large grocers routinely favor big brands and pay-to-play shelf rentals. Farmers Markets and Social Media (make sure to like them!) have created new opportunities, however, allowing them to re-introduce residents to their locally made sodas and the Simpson Spring story.
 In a stained glass room, circa the 1920s, is the Simpson Spring well. The beginning of the story. Today, small batches of soda are still hand mixed with that water, following original recipes. Since 1923, Virginia Dare in Brooklyn, NY has supplied extracts, while remaining ingredients, from sugar to fruit juices, are purchased locally. This commitment to tradition has made loyal fans, something James Bertarelli doesn't take for granted. He once personally delivered a case of Simpson Spring Lemon-Lime Soda to a desperate NYC hotel guest. It's customer service like that which will ensure The Simpson Spring Company continues for another century under the Bertarelli family.
Meet the Bertarelli family and taste history on Friday, October 5th from 6 PM – 9:30 PM at the 3rd Annual Local Craft Brewfest.
For more information about the Zero Waste Festival, you can visit bostonlocalfoodfestival.com.