Holidays without dessert? Boring!
Sweet treats add an extra sparkle to the festive gatherings. Gooey caramel pretzel brownies, sweet and creamy pumpkin pie, decadent ghorayeba – so good!
If you're looking for desserts to add to your festive menu, we have an amazing collection for you. These recipes are quick to prepare, look fancy, and taste delicious.
The best part? You'll probably have all the ingredients in your pantry. Even if you're out of something, a quick run to your nearest grocery store will fix the problem.
Now, let's get ready to celebrate the sweetest moments of life with a crowd-pleasing dessert.
1. Cinnamon Roll Cake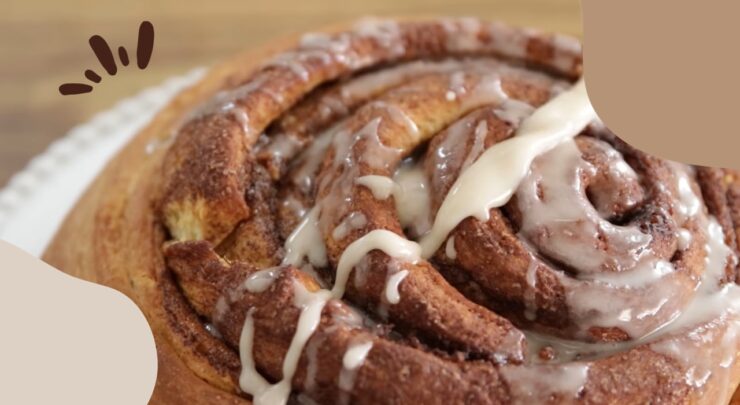 Cinnamon is a baker's best friend. The aroma of freshly baked cinnamon rolls can make anyone drool. But we all know the struggle of preparing and rolling out the dough for those swirls, which is why this recipe is a game-changer. It takes less than an hour to come together, but it looks like you've spent a great deal of time on it.
Here's what you have to do:
Set your oven to 350 degrees and let it heat.
Prepare the cake batter using flour, sugar, salt, milk, baking powder, eggs, melted butter and vanilla essence. Use a stand mixer to make things easy.
Pour the batter into your baking dish.
Now, in a small bowl, mix flour, melted butter, brown sugar, and cinnamon to create your topping.
Spread the topping on top of your batter and create swirls using a knife.
Bake your cake in the oven for roughly about 30-35 minutes.
Once done, drizzle the glaze (made with powdered sugar, milk, and vanilla) on your warm cake and enjoy!
Tweak this easy cinnamon roll cake recipe by adding nuts to the mix. Serve it with an apple compote and watch it work the magic!
2. Turon
Turon is a classic Philippines dessert that's crunchy on the outside and mushy and fruity on the inside. The filling is a flavorful combination of super-ripe saba bananas and jackfruit, wrapped in a spring roll wrapper and fried to perfection. This dessert is just right for sharing with family and friends during the holidays.
Here's how you can make this delightful treat:
Prepare the filling by slicing ripe Saba bananas lengthwise and combining them with chopped jackfruit, brown sugar, and a pinch of salt.
Cut your spring roll wrappers into squares and place the filling in the center.
Roll the wraps into a neat log and seal them with some water.
Fry the turons in hot oil until they turn golden brown and crispy.
Drain off any excess oil before serving.
For an extra indulgent twist, serve turon with a scoop of coconut ice cream or drizzle some honey over it.
3. Ghorayeba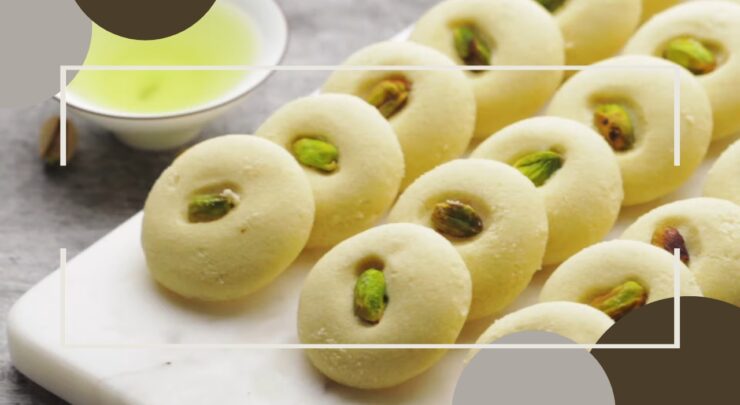 Bring the taste of the Middle East to your table with this three-ingredient dish. Ghrayeba is a cookie that's best served with a topping of slivered pistachios. If you want to pair it with tea, go for the traditional mint tea or opt for a floral infusion.
Follow the steps to make your own fresh batch:
Mix unsalted butter (or ghee) with the confectioner's sugar in a large mixing bowl. Cream the butter with an electric mixer for about 5 minutes.
Swiftly fold in flour with a spatula and mix everything to form a dough. Form the dough into a dish and plastic wrap it before refrigerating for an hour.
Once chilled, scoop out balls of dough, flatten them a bit, and place them on the prepared baking sheet. Dress them with slivered pistachios and pop them in the oven.
Bake the ghorayebas for about 12 minutes, let them cool for 15, and then serve as you please!
Tip: Don't scoop the flour right from the bag, or you'll get dried cookies.
4. Red Velvet Whoopie Pies
Sometimes, all you need is a pretty red dessert to brighten up your holiday table. These gorgeous Whoopie Pies are a fun twist on the classic cake, with a creamy filling sandwiched between two fluffy red velvet cookies. They're easy to make and perfect for gifting, too! Serve these delectable bites with fruit coulis and whipped cream, or simply dust them with powdered sugar.
To make these crowd-pleasing whoopie pies:
Sift flour, cocoa powder, baking soda, and salt in a mixing bowl.
In another bowl, mix butter with granulated sugar and brown sugar using a hand mixer. Crack eggs one by one and beat the mixture until it turns creamy. Stir in vanilla and red food coloring.
Now, add your dry mixture to the wet ingredients until a smooth batter forms.
Drop spoonfuls of batter onto a lined baking sheet and bake for 10-12 minutes. Let them cool before filling them with your desired cream or frosting.
5. Fruit Pizza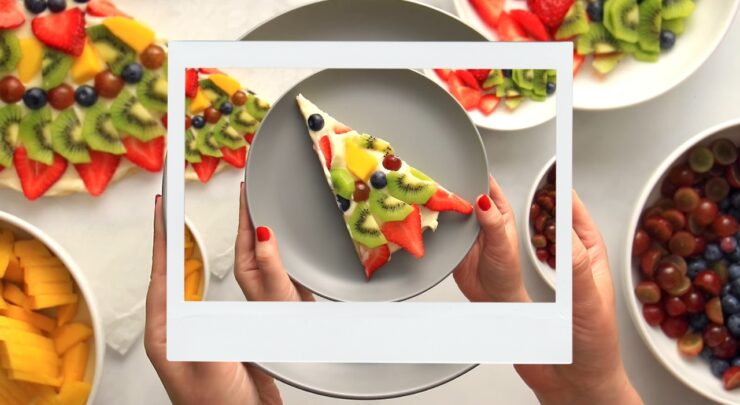 Last on our list is a colorful dessert that's sure to wow your guests – Fruit Pizza! This dessert is a great way to incorporate fresh fruits into your holiday menu and keep things light and refreshing. The pizza takes about 20 minutes to prepare and another 10-15 minutes in the oven. Choose the fruits of your liking. The options are endless. Strawberries, kiwis, blueberries, mangoes, or pineapples – everything will work.
Here's how you can make this beautiful and delicious treat:
Prepare the cookie base by mixing flour, baking powder, salt, sugar, and butter in a bowl. Press the mixture onto a pizza pan and bake for 15 minutes.
While the cookie crust is baking, mix together cream cheese and powdered sugar to create the filling. Once the crust has cooled down, spread the cream cheese mixture on top.
Arrange your desired fruits on top of the cream cheese layer in any pattern you like.
For an extra touch, drizzle some honey or melted chocolate on top.
Slice and serve your fruit pizza for a delightful end to any holiday meal!
Blessing Your Holiday Table
Make your holiday table shine with these easy-to-make and pleasant-to-look-at desserts. You can tweak the recipes to add your own touch and serve them with goodies of your choice. If you want to reduce the cooking time, prepare half the recipes beforehand and refrigerate them until you're ready to bake.
Most of these recipes are easy to store, too. All you need is an airtight container and your trusty fridge. So, make a double batch and save some for surprise visits.