Each and every year, ever since 2010, the Rose Kennedy Greenway turns into a wonderful Boston Local Food Festival, an annual celebration of locally-grown food, farmers, and producers of the finest specialties in the area. It is a festival where you can enjoy delicious foods from local eateries, which is a real treat for all gourmets out there.
This festival is a special event that will be held for the 12th time on Sunday, September 18th this year. It is a fantastic opportunity to spend some quality time with family and your loved ones, tasting the very best the city of Boston has to offer. There are numerous activities you can enjoy, so we have a lot to cover in this article in order to present to you what to expect. So, without further redo, let us get right into it.
About Boston Local Food Festival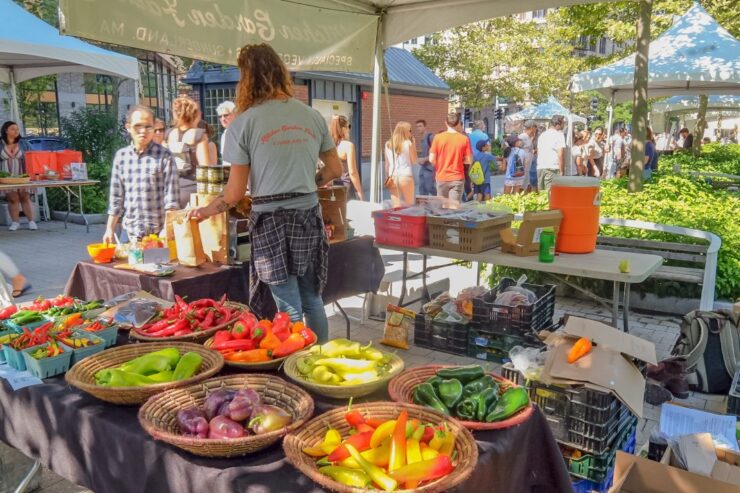 Each year for one glorious day, the Sustainable Business Network of Massachusetts (SBN) is responsible for delivering the city of Boston into the nation's largest local and sustainable food hub. Visiting this festival means seizing the opportunity to meet farmers, producers, chefs, and companies involved in workshops and cooking demonstrations.
However, enjoying some of the finest local foods is not the only thing you can indulge in. The event offers a chance to spend some time in recreational activities, including live music for lively entertainment, and a promotion that has the goal of encouraging and stimulating local agriculture, which is one of the main economic resources of the State of Massachusetts.
Boston local food festival offers opportunities to all the members of Massachusetts state as well as comers from other parts of the country. You can also take part in this amazing event if you are a chef or a farmer and want to present your own products and dishes.
Even if you just plan and wish to work and be a part of the food and farm agriculture sector, the doors of the festival are open for you. Jooble can help you with all the available opportunities agriculture and farming offers at the moment so you can become a part of a big community of food lovers and take part in upcoming food festivals.
The Festival's Goal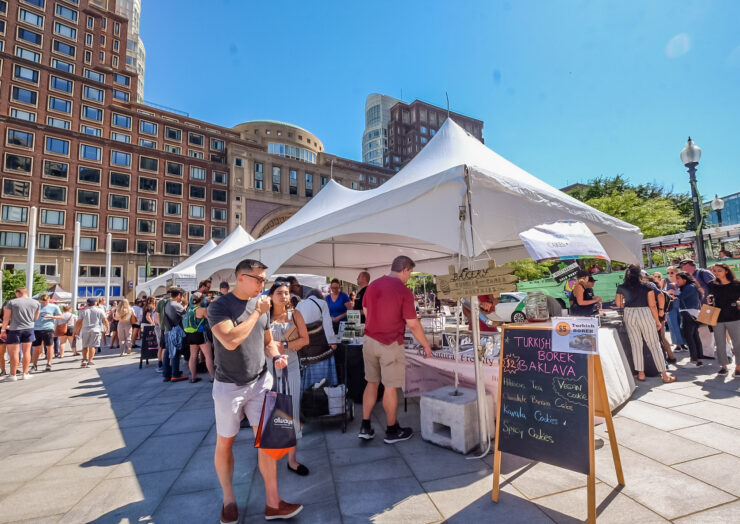 New England's vast food diversification is intended to become the inspiration for growing and eating produce grown and caught in Massachusetts with a strong emphasis on vegetables and fruit. Visitors will have an opportunity to see, taste, and appreciate the wide variety of wholesome and delicious crops and products from all over the state.
It is a unique festival that also sees famous chefs at the helm of a non-profit organization, supporting the nutritional and food system, adopting typical products, and educating the consumers as well as the culinary community.
Boston is an amazing city, and it gets even better if you are an enthusiastic supporter of local food and food products. Farms in the metropolitan borough are always proud to feature fresh produce at this fall event, which sees support from Boston's Sustainable Business Network, which has a goal to stimulate local entrepreneurship and community leaders to make this event even better.
Boston Local Food Festival: Things You Could Have Seen on Previous Festivals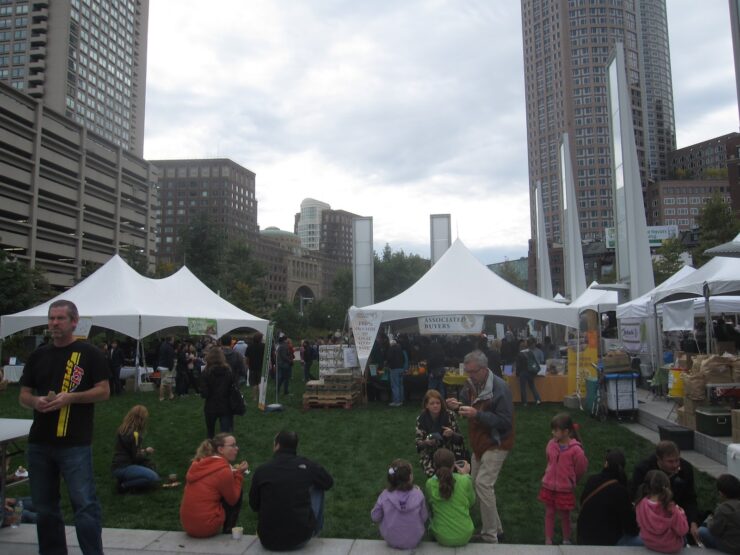 Applemania
The apples are definitely one of the most important agricultural products of Massachusetts, with over 29 species grown in the orchards of the state, and which sees a wide application in the food and gastronomic industry.
Cider, donuts, apple candies, sauces, apple butter, jams, crepes, pancakes, apple chips, dried fruit, and an assortment of sweet and sweet dishes are just some of the foods that Chefs prepare during cooking demonstrations.
Fishstock
This mini-fish festival showcases fresh Massachusetts fish caught by local fishermen in the ocean waters. Regional restaurants offer local fish for all types of palates, and attendees can chat with fishers, observe fishing tools and find out how to identify and clean different types of fish.
Meet Your Meat
Butchers are also an important part of the Boston Local Food Festival, and they also demonstrate their arts and teach how to cut meat on a professional level. The Chefs present the various types of meat of ox, goat, poultry, lamb, and pork. They also prepare dishes of grilled meat, sausages, stews, and meatballs, that are typically served in the finest restaurants.
Glorious Eggs & Cream
This section was reserved for artisanal cheeses, cream cheeses, cheese sauces, local milk and creams, eggs, ice cream and sorbets, milk soups, omelets, and quesadillas.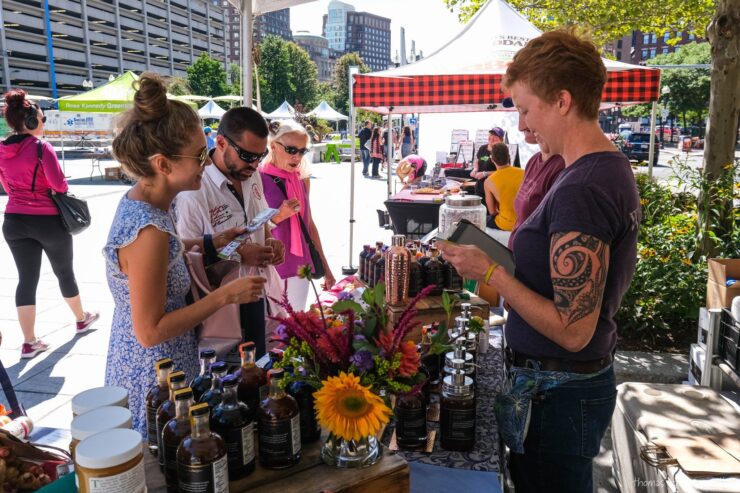 Made in Massachusettes
In this section, you can see on display the special products of typical Massachusetts artisan food producers. You will be able to see and taste jellies, jams, preserves, bread, crackers, biscuits, and sweets. All of this is combined with tastings, demonstrations, and exhibitions of Massachusetts products.
Green Thumbs Up
During these exhibitions, you will be able to see various workshops with examples of urban gardening and advice related to it. You are able to learn how to create a vegetable garden and collect seeds. Activities also include urban gardening, ethnic gardening, and other specific techniques for setting up a garden.
The Good Life
Health and education groups share the benefits of knowing certain foods and food preparation in this section. This also includes interactive activities with the opportunities to learn more about your body and exercises.
What is Brewing in Massachusetts?
In this section, the local brewers demonstrate the best beers in Massachusetts. There are tastings and opportunities to learn more about brews. Demonstrations are carried out on homemade beer manufacturing and combinations with tastings of fish and other local food.
What to Expect at Boston Local Food Festival 2023?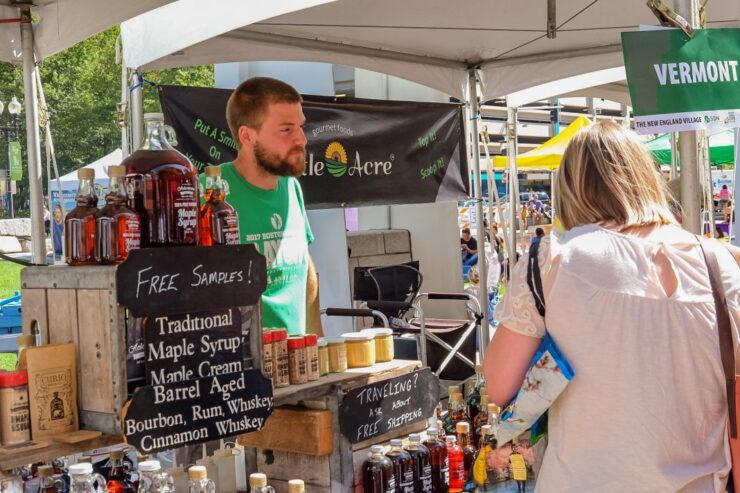 Some of the activities you will be able to participate in at Boston Local Food Festival 2023 are already revealed, while some remain a mystery. Here is what we know so far:
Family Fun Zone
The Family Fun Zone is situated near the fountains, and you will be able to see several booths that are dedicated to a family-friendly program that includes face painting, educational workshops, and various games.
Zero-Waste Challenge
This is a Zero-Waste event that serves to divert over 91% of the city's waste each year. A healthy environment is very important, which is why this is an important challenge and event you should definitely take part in.
Cooking Demonstrations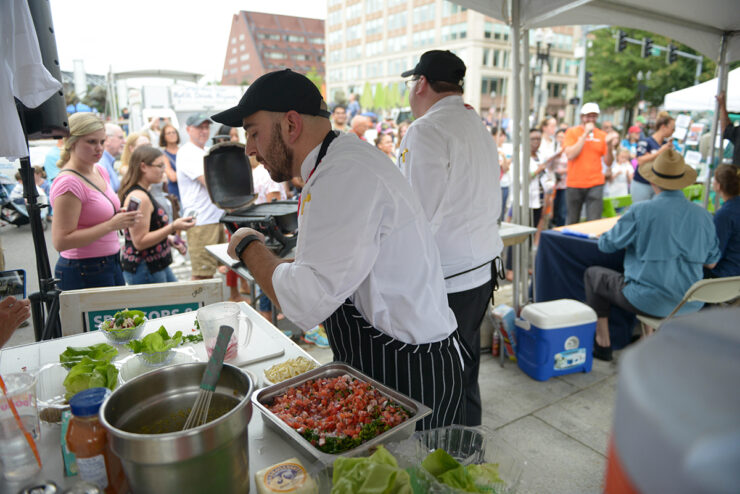 Same as was the case at previous Boston Local Food Festivals, you will get a chance to enjoy cooking demonstrations from some of the finest of New England's top Chefs. See local food cooked live, and get an opportunity to taste it as well.
New England Village
All vendors at this event are both sourced and based in New England, and some of the selected ones represent their states in the New England Village, embodying the ideals of green, local, and fair economy.
Seafood Throwdown
This is one of the most entertaining events of the festival, as you get a chance to see local chefs compete in front of a live audience and judges for a chance to prepare the best seafood dish with local ingredients.
Final Words
Boston Local Food Festival is a magnificent event celebrated by numerous locals and tourists each and every year. It is a celebration of local cuisine, farmers, chefs, and entrepreneurs and an event that we strongly recommend you visit if you find yourself in the Massachusetts state.
Just to remind you, this event will take place on September 18th this year at the Rose Kennedy Greenway, so make sure to stop by and enjoy local festivities.