The digital age has introduced us to valuable new ways of sharing information and connecting with people and resources to which we might not have previously had access. But the organizations that make the best use of this technology are the ones that encourage or facilitate offline connections. Kitchensurfing does just that. It's an innovative website that introduces you to chefs of all different cuisines who will come to your house, cook for your dinner party, and even help with the cleanup.
Emily Piuggi, the Chef & Event Coordinator for Kitchensurfing's Boston chapter, sums it up by saying, "Such a large portion of our lives are spent online, and with Kitchensurfing, we make use of this amazing technology as a means to unite people around the table. We really believe there isn't anything better than sharing good food with good friends."
So how do you get started throwing your own professionally catered dinner party? It's as easy as clicking over to Kitchensurfing.com and having some fun with their interactive menu planner where you can search for a chef that's the right fit for you based on parameters like food preference, price range, and a number of dinner guests. From there you'll be taken to each chef's personal page where you can read about their credentials, cooking style, and why food is important to them.
Kitchensurfing chefs go through an extensive screening process to make sure that customers have access to a wide range of options, and that every chef conveys a sense of enthusiasm and passion for the work that he or she does. Most of the participating chefs have an eye for sustainability and locally sourced ingredients in their cooking, which means they deliver a high-quality product with a touch of local flavor.
Chefs Jitti Chaithiraphant, Mark O'Leary, and Justin Hackett serve their original dishes at a recent Kitchensurfing event in Cambridge.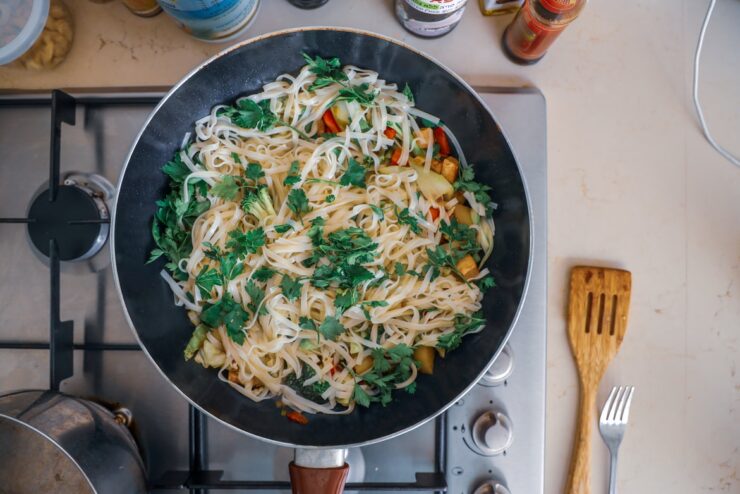 Kitchensurfing got started in New York in 2012 and came to Boston in 2013. According to Emily, Boston's unique and vibrant food scene makes it an ideal city for an organization like this to take root. The team aims to support local chefs, as well as food producers and like-minded small businesses. And of course, to build relationships with food enthusiasts all over the Boston area.
To give you a taste of what they're all about, Kitchensurfing will be at the Do-It-Yourself Demonstration tent at Boston Local Food Festival on September 14th. You'll be able to watch live demos of chefs at work, grab some free samples of their products, and talk to the organizers about their other chefs and how it all works. See you there!
Visit Boston Local Food for more information!